Allison Lee's Biography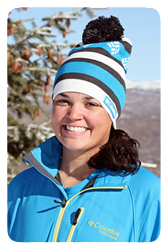 Allie to all her friends is a product of the Waterville Valley Black and Blue Trail Smashers in New Hampshire.  Her early years were spent at Okemo Mountain where she began skiing at age four.  After spending a few years on their racing team, she made the decision to follow her brother Brady onto Okemo's freestyle team.  A former Connecticut state champion gymnast, combining the two sports was a natural fit.  She made the decision to attend high school at The New Hampton School in New Hampshire so she could attend Waterville's winter academy and train full-time under the renowned coach, Nick Preston.
An all-around talented skier, Allie competed in moguls, halfpipe, slopestyle, dual moguls, and aerials earning numerous podiums and awards along the way.  She narrowed her focus to aerials when she made the United States Freestyle Ski Team at age 18 while a senior in high school.
Allie took two years off to attend the University of Vermont while recovering from an injury.  In 2011, her first year back, she won the overall Nor-Am Grand Prix title after seven podiums and once again earned a spot on the United States Freestyle Ski Team. This past year she landed three top ten spots on the World Cup Circuit.
She now resides in Park City, Utah training full-time at the Utah Olympic Park and the Center of Excellence.  She is completing her degree at the University of Utah where she is a senior.
Contact Allison
Fill out the fields below to contact Allison. Don't forget to click "Submit Info" to send message.
[si-contact-form form='1′]