Allison Lee Freestyle Aerialist
Welcome to www.allisonleeskiing.com! Allison Lee is an accomplished freestyle skiing aerialist on the United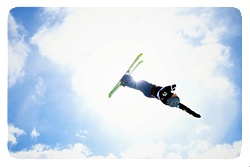 States Freestyle Ski Team and an Olympic hopeful for the Winter Games in Sochi, Russia 2014. For the 2013/2014 season, she will be competing on the World Cup Circuit traveling throughout theUnited States, China, Russia, and Canada. She has already landed five top 10 World Cup finishes for freestyle aerial skiing. Visit her results page for her complete competitive skiing transcript.
We invite you to follow and join Allison on her competitive skiing journey via her website which features blog style updates, schedule, results, photo's and video's. You can also find and follow her skiing on Facebook and Twitter. If you'd like to contact Allison, send her a message via the contact form located on the right side of every site page.
Thank you for visiting and come back often!
Allison's Competitive Skiing Schedule
World Cup:  Beida Lake, China – 12/15/13
World Cup:  Beijing, China – 12/22/13
World Cup: Deer Valley, Utah – 1/10/14
World Cup: Val St. Come, Canada – 1/14/14
World Cup:  Lake Placid, NY – 1/18/14
US National Championships: Heavenly Valley, California – 3/25-30/14
World Cup Circuit Schedule
Contact Allison
Fill out the fields below to contact Allison. Don't forget to click "Submit Info" to send message.
[si-contact-form form='1′]